Stops malicious programs from attacking you online
Virus Protection Pledge - Instant Virus removal or a Guaranteed Full Refund
Includes Personal Firewall and Network Manager
One of the most important factors to consider when searching for the best antivirus software for your computer is undoubtedly how well the software protects against real threats. To this end, there are a number of organisations that specifically test the effectiveness of how well the antivirus program can defend against malware infections such as viruses, worms or trojan horses. McAfee was found to score 100% protection against current malware attacks as well as being able to detect and prevent widespread and prevalent malware discovered in the last 4 weeks.
Protection

100%

100%

Performance

98%

98%
The impact of running McAfee on the performance of the device is in most cases better than the industry average. There will always be an element of degradation in system performace when running antivirus software but McAfee has outperformed its competitors when it comes to downloading files, browsing websites and launching applications. However, McAfee doesn't perform as well when installing / uninstalling applications but given that these procedures are not carried out very often, the impact of this will be minimal. Overall McAfee does an excellent job of protecting your device from the latest threats and works well in the background without interfering in your routine tasks.
The basic edition of McAfee Antivirus includes Wi-Fi protection to devices and Wi-Fi networks from unauthorized access. Also included is McAfee Webadvisor which identifies suspicious links and avoids risky websites as well as automatically scanning all downloads to ensure you never download a dangerous file. McAfee Total Protection includes additional features such as Parentals Controls, Network Manager and Anti-Spam Security. Best of all, McAfee offers a virus protection pledge which ensures instant virus removal of a 100% guaranteed full refund.
McAfee Total Protection includes all of the following features:
McAfee Active Protection
Global Threat Intelligence
NetGuard
Network Manager
SiteAdvisor
Vulnerability Scanner
McAfee QuickClean
McAfee Shredder
Parental Controls
Anti-Spam Email Filter
File Lock
Once installed, the software has easy access to various tiles to perform specific tasks such as running a system scan and updating your applications.
The PC security tab will be the main window that you will be working with which has options to run a scan, update your applications, check for updates to the software itself. There is also a tile to launch McAfee WebAdvisor which is the tool you need to protect you while you are using the internet to prevent malware and phishing sites from loading. The tile to remove cookies and trackers is perhaps a little misplaced and should be under the Privacy tab.
The left-hand navigation pane shows a security indicator for your computer as well as other protected devices making it a control-center that allows you to easily identify what devices are protected.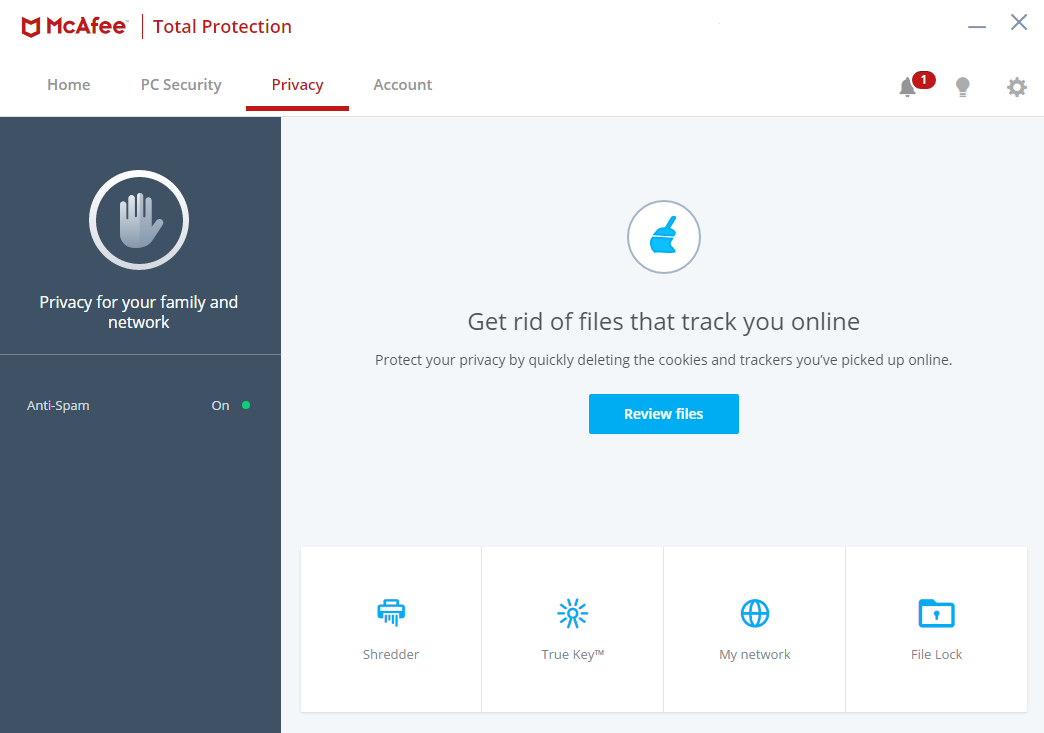 The Privacy tab contains a Shredder to securely erase data that is in your Recycle Bin for example, making sure that sensitive information can't be recovered. There is also a tile to access McAfee True Key which is a password manager to allow you to login to websites securely and takes the hassle out of remembering passwords for all the different websites that you may use. True key syncs across all your devices and is supported on Windows, Mac, Android and iOS. There is also a tile to check other devices on the network as well as McAfee File Lock which is a vault that you can use to safely store your valuable personal files.
The Account tab shows your software registration information and your renewal dates. All of the settings as well as advanced features can be accessed from the cog icon at the top right corner. This includes options to schedule scans and access firewall options as well as all the other tiles that are available on the main screen. Overall, the interface is intuitive and easy to use which makes it suitable for users of all levels.
Specialist in the field of software & website development. Passionate about technology. Ambitious traveler and entrepreneur.
Jacob Elliott